carbon / Resilience consulting
media appearances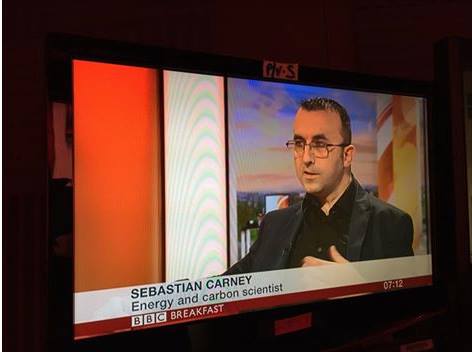 science driven support
Media Interviews to Explain the Science, Law or Policy
We have a team of scientists eduucated and published on climate change, energy, law and policy.
Our consultants have provided TV, Radio and Newspaper interviews and reports in local, national and international settings.
If there is an aspect of policy, law or science that you would like comment on then please get in touch. The image to the left is of Dr Carney providing the Guest Scientific Advice for BBC Breakfast for the IPCC's Assessment Report 5 Synthesis.
Services
What Will We Achieve Together?
Carbon Captured has a track record of bringing diverse groups together, contracting expertise from 20 countries. We have helped to form policy/strategies at differing scales (from SMEs to the EU).  We look to enable decision makers with clear, evidence based messages. Our philosophy means that we engage a broad spectrum of stakeholders, understanding perspectives to help broker agreements. This is because with a strong, knowledgeable team on your side, you will be more powerful.
build networks
We broker agreements between and help to devise networks to support future action.
Data visualisation
GRIP was the first tool to incorporate a dashboard style approach into climate and energy policy,
modelling
We provide energy modelling at various scales, Helping to identify preferred areas for action.
form strategy
We work with you to form strategy, from communications to land use change and energy.